Pass Rate for Georgia Nurse Licensing Exam Declined in 2021
Some schools remain at the top of their game, however.
Pomona, N.Y., July 07, 2022 -- Pass rates for RN's taking the Georgia nursing boards (NCLEX) in 2021 was 86%, down from around 90% the previous three years. However, a recent study by exam prep provider EasyNCLEX.com found there were some schools that excelled.
At least one school attained a 100% pass rate, and several others were just one student short of perfect. The Southeastern Technical College nursing school achieved a 100% pass rate, with all 37 students passing the exam. NCLEX Pass rates at Southeastern Technical College have risen steadily from 88% in 2018 to 100% in 2021.
Chattahoochee Technical College and Southern Crescent Technical College came close, passing 53 out of 54 and 36 out of 37 respectively.
The NCLEX exam is the official licensing exam for nurses in the United States.
The 86% pass rate in Georgia is still significantly above average. According to the National Council of State Boards of Nursing (NCSBN), the average NCLEX-RN pass rate for all first time test takers in the country in 2021 was 82.5%.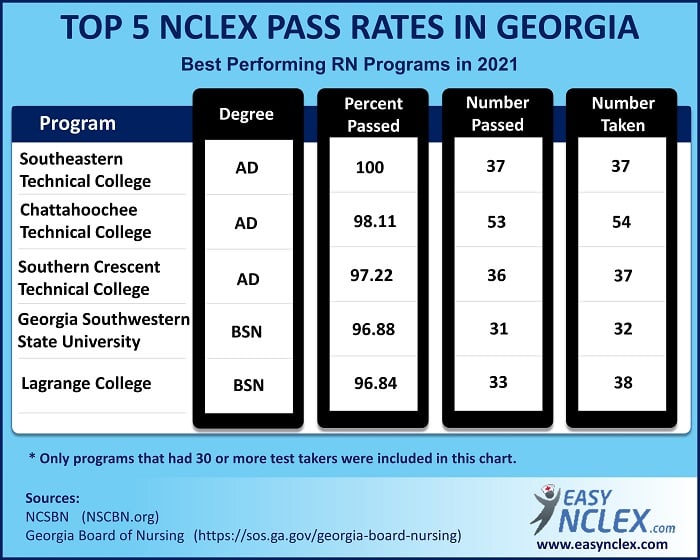 Sources:
NCSBN (NCSBN.org)
Georgia Board of Nursing (https://sos.ga.gov/georgia-board-nursing)
About EasyNCLEX.com
EasyNCLEX.com is an expert provider of practice software for the U.S. nursing board exam (NCLEX). The site offers easy-to-use online practice questions for nursing students as well as comprehensive resources about the NCLEX exam.
Contact:
Alex Friedman
www.easynclex.com
alex@easynclex.com